Simchas Olam,
COMBINING CHESED AND TEFILAH INTO ONE
Every girl dreams of her wedding day. The start of a new chapter in her life, one filled with many dreams for the future. Her hopes and aspirations are powerful as she yearns for the first step towards her ultimate goal; building a בית נאמן בישראל
Building a home is building a family. Imagine the devastation a young woman experiences as she realizes that motherhood is now an elusive goal, defined by doctor appointments and numerous costly fertility treatments.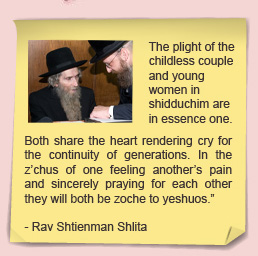 Introducing Simchas Olam, an exciting new project of Bonei Olam.
Join us and participate in this unique opportunity. With your enrollment you will receive the name of a childless couple to have in mind in your tefilos. The couple will receive your name, to be mispallel for you to find your bashert. These exchanged identical tefilos to build a Jewish home are an act of chesed in it's highest form.
It's more than tzedakah; It's a partnership to break